Yes it is. The battle has just begun between me and my brother James Tampubolon. Its about body-shaping battle, so, my brother challenge me who's gonna faster to have a near-to-sixpacks body, me or him. I answered his challenge yes but with one condition, the winner will get nokia E63 as the prize from the looser. Its kind like suprised me he agree with my condition, and we dealed three months as a dealine and our brother Juara as the judge. So, the result will be held on November 25th, 2009 and our home as the place to announce it.

Here is the picture of us, we make our best pose to show how we like to beat of each other.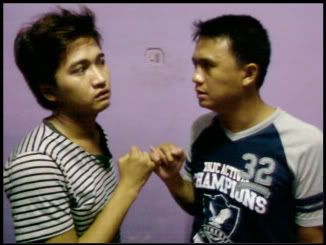 So, who'll you vote for ? are you with me all ? or being traitor by giving your voice for my brother ? you choose. LOL .