Wow, its already December 12th, 2009, 2 inthe morning actually here, in my country. I'm sitting infront of the laptop to post 4 topics for The Best of 2009 Blog Challenge. Its too late, or not ? Ok, I admit that I'm 2 days behind from the date I supposed to post for this blog challenge. Wanna know the reason ? I'm too busy (or looks busy) for my new blog on tumblr.com. Yup, I made new blog on tumblr.com with url nandogino. I made it about 4 days ago, than the situation suddenly come, I'm enjoy my new blog too much (well, its normal right ? isn't it ? we're just too hapy/too much enjoy for our new stuff). Lucky me (well, it should 'lucky for blogger.com'), my brain wake me and told me to post something on my blogspot blog.
Due I have to post 4 themes at once, I will make it a quick post.
First topic, about challenge. My big challenged for this year was my backpacker'style trip to Bali with my bolang friends. 1.398,3 km, total distances we spent. With economic train (train in jakarta is far different with train that you have in new york, tokyo or somewhere else. I must admit train here in Indonesia far from clean, far from proper facilities, etc) from Station Senen to Surabaya, then we continued our trip with mini travel bus to kuta, bali. Bring less money than it should, less preparation, had breakfast on lunch time, and had lunch+dinner on dinner time, the worst thing (but for me the best thing) was had an one night sleep on the beach (due lack of money). Even with much pains we shared on this trip, but we considered the trip was the best we ever had in this 2009. We learned lot of things, from waiting something, faced our hunger (now we know what the orphans on the street felt when they would fain untill die only for a handfull of rice ), and so many more I have learnt from our trip to bali.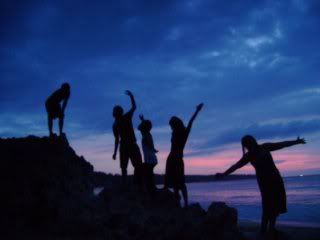 [our silhouette on dreamland beach, bali]
Second topic,
Album of the year
.
What's rocking your world?
I will say Agnes Monica's newest album called
'Sacredly Agnezious'
was the best album I ever heard for this year. Great singer from Indonesia. For you who haven't hear about her songs yet, please come to
agnezone.com
for further info about her songs and her news.
Third, The best place. Humm,, I consider the best place is as the best place for hang out. So, i will give my award for best place of 2009 to
Ayodya Barito Park
, South Jakarta, Indonesia. Its a public park. I usually go there on the weekend with my friends.
Now, last but not the least for today, best New Food for 2009. Doesn't want to be such a self adorer, but I'll say my cooked called 'omlete keju' in english it means 'omelette cheese'. But my 'omelette cheese' definitely different from american or europe's omelette. The best part from my omelette, the omelette is mixed from noodle and egg with cheese as topping. How with the taste ? hemmm,,its so yummy.
Okay, finally. Its done. Four topics of blog challenge for today. I'm gonna continue my sleep. Bye all.